$0.99

 

Release Date : Jul 29, 2017
Version 1.0
1.0 MB
English
Andre Martin
© Ampelmann® by Ampelmann GmbH
Andre Martin
Compatibility: Requires iOS 10.3 or later. Compatible with iPhone, iPad, and iPod touch.
Description
AMPELMANN – THE ORIGINAL FROM BERLIN
Let the World-Famous AMPELMANN helps you create wonderful iMessages and deliver emotions in a very unique BERLIN way …
How to use it:
-Open iMessage
– Tap the App Store icon in a message
– Tap the AMPELMANN Icon
– Drag the AMPELMANN on a picture or text you sent
– or send them directly
HAVE FUN and send some BERLIN greetings to all of your friends.
Andre
AFTER FIRST DOWNLOAD->
1.) Go to iMessage
2.) Open a message
3.) Tap the App Store Icon
4.)Tap the left four rounds icon
5.)Tap the PLUS "Store"
6.)Tap "Manage" on the right top side
7.) Tap the Button next to "Ampelmann"
8.) Then Done and you can use them
Thanks a lot to AMPELMANN GmbH for the great teamwork!
Content Copyright:
"The Ampelmann is a registered trademark of AMPELMANN GmbH, www.ampelmann.de.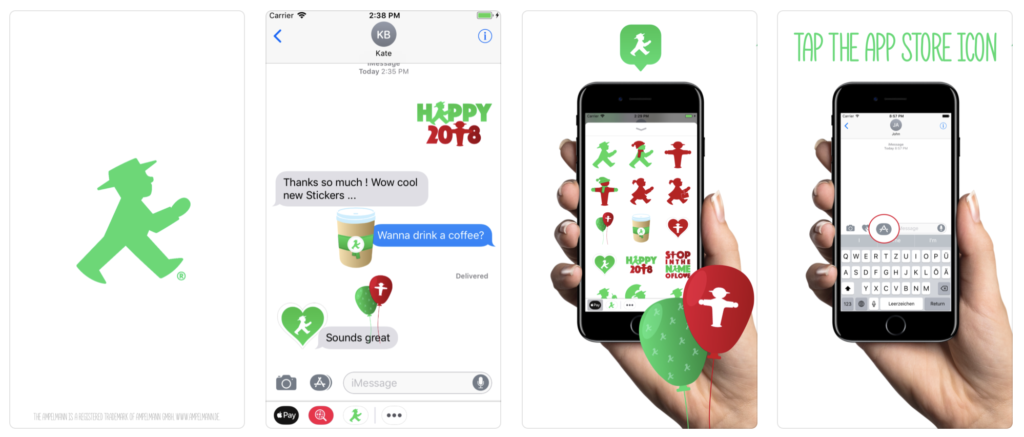 Customers also downloaded